Welcome to the Linda Fripp Designs website


We are a compact, highly regarded company who specialise in creating sensational innovative celebration cakes, using a wide variety of mediums. Our name is synonymous with quality. Our work appeals to discerning clients who wish for the ultimate bespoke centrepiece at their special event.

Each commission is personally overseen by Linda Fripp, a highly knowledgeable and Cordon Bleu qualified, creative patisseur, florist and artist. Linda has the vision to encapsulate all the elements of your event to dramatic effect through one of her sensational creations. Our policy is never to over book our work, so that we can offer every client the time and care that their order rightly deserves. Early reservation is always recommended.

Our delicious cakes have travelled all over the world, sought after by both our royal family as well as international royalty, multi-national corporations, celebrity, society and other distinguished patrons. We are very honoured to have been appointed the official Royal Wedding Cake Maker in 1999, when our famous chocolate cake was chosen to be part of the wedding breakfast dessert.

Our work is commissioned by leading magazines for their editorial features, displaying "ahead of their time" trends. We are honoured to be so well respected throughout the industry and as such our work is commissioned by all the leading Event Co-ordinators and we are highly recommended by the country's most exciting and prestigious venues. Commissioning a cake from Linda Fripp Designs guarantees the reassurance everyone requires when planning an event.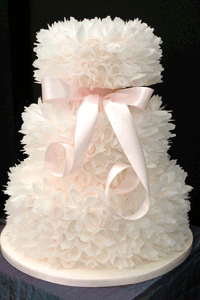 Linda is perhaps best known for her signature feathered cake design. This design was first launched in Your and Your Wedding magazine in 2003 and due to its popularity is now frequently copied, but certainly could never be equalled as it would not contain one of Linda's yummy cakes inside! The customised decoration is entirely edible and certainly adds the "wow" factor to any event.