Ordering Is Simple!


Telephone, fax or e-mail us to discuss your requirements, ideas etc and we will confirm our availability to supply. When you commission a cake from Linda Fripp you are purchasing a work of edible art.

The plentiful letters of thanks and amazement received each week from our satisfied clients are testimonial to our production skills and service.


If you are unsure of what you exactly want.... do not worry....we will be happy to discuss ideas and suggest that an appointment could be arranged, allowing time to design something very special, exactly suited to your requirements. This is a free service and comes without obligation.

All appointments are undertaken with respect for our client's strictest confidence. We are proud to have been entrusted on many past occasions with high profile commissions.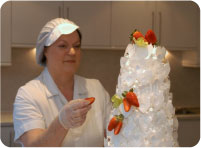 A written quotation will be sent to you specifying order details and advising both the cost and our current terms of trading. All quotes are free and without obligation

Whilst we offer a reassuring nationwide delivery and set up service, clients are always welcome to collect their orders at a mutually convenient time. Orders are hygienically packed ready for transportation and come with comprehensive assembly and storage instructions.