Anything is possible !


We strongly believe that all cakes should taste as sensational as they look! They can offer a delicious dessert option, which provides an cost effective saving when planning an event and ensures that every last crumb gets used efficiently. With our cakes, convention has gone out of the window . . . we believe in free expression . . . . . . it's your day and your choice! All of our recipes are unique and have evolved over the many years that Linda spent training Cordon Bleu students with Rosemary Hume at Winkfield Place and The London Cordon Bleu school. They are out of this world for flavour, texture and freshness and offer a truely memorable experience to all of our clients.

We offer a vast selection of cake types and flavours, all of which are incorporated into chic and trendy designs, creating the "look" required by our clients. We can adapt our recipes where possible to take into account specific dietary requirements. With all of our confections "taste" and "style" marry together in a natural harmony.

Whilst our well matured rich fruit cake, steeped in brandy or other liqueur of choice, then topped with a generous layer of almond paste, is still a firm favourite amongst traditionalists, we can also offer many other delicious cake choices to suit all tastes and occasions. Some of our most popular sponge based cakes are listed below, but if you have another particular favourite cake type do request and we can make it for your order.

Our renowned chocolate cake is possibly the most popular choice, being not over sweet, very chocolately and extremely moist. This can be split and layer filled with a wide range of fillings to suit your personal taste.

Refreshing Lemon drizzle cake, split and layer filled with a fresh lemon crème au beurre.

Orange liqueur tipsy cake. Either Cointreau or Grand Marnier soaked together with a fresh orange syrup split and layer filled with an orange creme au beurre. A plain orange drizzle cake is also sensational for those who prefer an alcohol free version.

Raspberry marbled cake, split and layer filled with a quality raspberry conserve and crème au beurre. Framboise or Kirsch liqueurs are a popular addition.

Strawberry and Chardonnay sponge encapsulates English summer garden parties, whilst our mellow Apple and cinnamon cake with sultanas and the option of a Calvados lace is a very homely yummy alternative.

We also make a choice of several great coffee cake recipes, all of which delight the palate.

Our sensuous cake designs never fail to exceed our client's taste expectations.

Carrot cake, Banana cake, Ginger cake, Almond cake, Pineapple cake, Apricot cake, Praline or Hazelnut cakes, Vanilla sponges, Cherry and ruby port wine cakes . . .

Chocaholics Paradise!

We offer a great selection of cake icings and frostings, made from recipes developed over years of experience . . . many of which can be tinted to match your colour scheme. As well as offering a great fresh sponge cake range we can also make deliciously naughty Mousse cakes, Cheesecakes, and Shortcakes, as well as towering Croquembouche made to the traditional french method. Great Meringue confections are also very much in vogue and offer a great choice in terms of flavour and construction.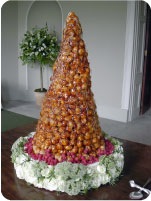 Click Here To Enter Our Individual
& Dessert Cakes Gallery


The choice continues . . . not to mention our "to die for" Chocolate devils food cake. This a a very dark rich chocolatey, not over sickly sweet, moist sponge cake which can be split and layer filled with a wide choice of fillings . . . try our dark chocolate fudge frosting, or, our gannache range or . . . what about a tantalizing white chocolate creme au beurre.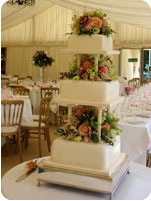 Click Here To Enter Our
Traditional Cakes Gallery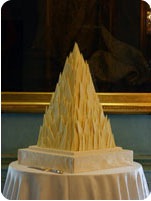 Click Here To Enter Our
Chocolate Cakes Gallery

We also offer a selection of pastry based dessert cakes . . . why not be continental and choose some delicate patisserie selection, Doboz Tortes, Griestortes, Japonnaise set up in a towering profusion or try our decadent Treacle, Vodka and orange with clotted cream tarts . . . or mini Summer puddings . . . Bread and Butter puds etc . . . a taste of old England with a modern twist! . . . a really naughty, but trendy, way to serve a wedding cake!


Click Here To Enter Our
Contemporary Cakes Gallery

We take great pride in producing a wide range of cake decorations. We can craft decorations in a choice of mediums, including sugar and chocolate, edible parchment, caramel, or use fresh fruits, vegetables and flowers. As a qualified Constance Spry florist Linda can create exciting floral finishes in hygienic surroundings to suit any design, matching any event specification. Our blooms are flown in daily from around the world freshly for each order and are conditioned well before being prepared for extended display.

To view lots of examples of our designs simply click on any of the links on the right hand side of this page - Chocolate Cakes, Contemporary Cakes, Traditional Cakes, Individual and Dessert Cakes, the choice is yours!